Natural gas is the third most important source of energy behind oil and coal. The use of natural gas is growing quickly and is expected to overtake coal in the second spot by 2030. Natural gas was first developed commercially in the United States in 1825 but became a major source of energy globally in the 1970s. Today, natural gas is used by power plants to generate electricity, as well as for domestic heating and cooking.
The world's biggest producers of natural gas are the United States, Russia, Iran, Qatar, Canada, China and Norway. These countries provide excess natural gas that can be exported to other countries, which is either transported through pipelines or as liquefied natural gas (LNG).
Europe – The European Union has entered the process of phasing out the use of Russian oil and gas throughout the continent by the end of the year in response to the invasion of Ukraine. Before the conflict, Russia supplied the EU with a large chunk of its oil and gas and it has now shut gas supply for a few EU member countries as a response to sanctions. All this turmoil has caused energy costs in Europe to surge, which is resulting in major concerns for Europeans who in many cases cannot afford their utility bills. It's also not clear when costs will go down again. Without pipelines to get natural gas from western Europe to the east where excess quantities exist, the EU must figure out how to transport it to countries that need a steady supply, especially if Russia starts cutting off supply to even more countries. Countries like Germany are highly reliant on Russian gas to generate electricity and heat their homes. Germany currently relies on Russia for 35 percent of its natural gas. And to some experts, the recent Poland cut-off is just a hint that they could be next. That would cause major issues for the German economy and could lead to an energy crisis.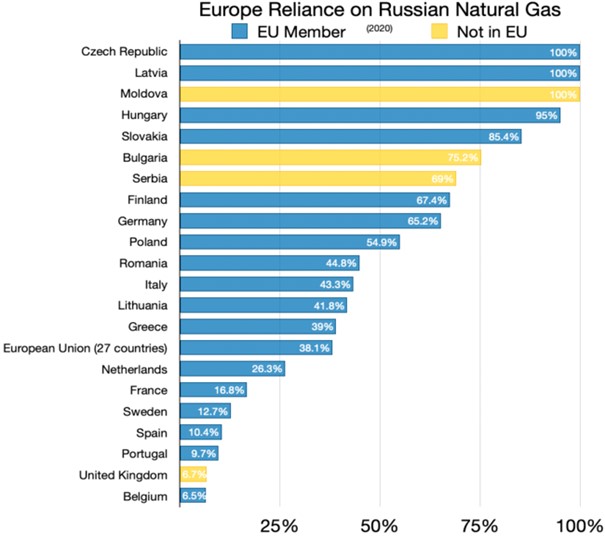 United States – Natural gas was the largest source – about 38% – of U.S. electricity generation in 2021. America produces more natural gas than it uses, so exports to Europe are possible. In 2020, the United States was able to export 2.7 trillion cubic feet of natural gas. The EU uses about 45 billion cubic feet of natural gas per day and imports 80% of that. So even if the US sent all their extra natural gas to Europe, it would only provide about 75 days' worth of supply. Even though the amount of gas produced can be increased, that would take state and local governments to revoke their regulations that prevent more production. State and local government obstruction is not the only barrier. The Biden administration is doing everything it can to limit more natural gas production. Biden's aversion towards natural gas and other fossil fuels is obvious. This creates regulatory uncertainty for firms that then reduce their investments in new production.
US Natural Gas pricing – In a free-market environment like in the US, supply and demand will determine energy prices. The U.S. natural gas prices more than doubled since the start of the year, and this summer's air-conditioning season could send them soaring by at least another 25%. The higher natural gas prices are heavily hitting U.S. businesses and consumers at a time when gasoline and diesel fuel prices are also at record levels. Analysts say that utilities that normally switch to coal for power when natural gas prices surge are finding that coal is even more expensive — the equivalent of gas at $9 to $10 MMBtu.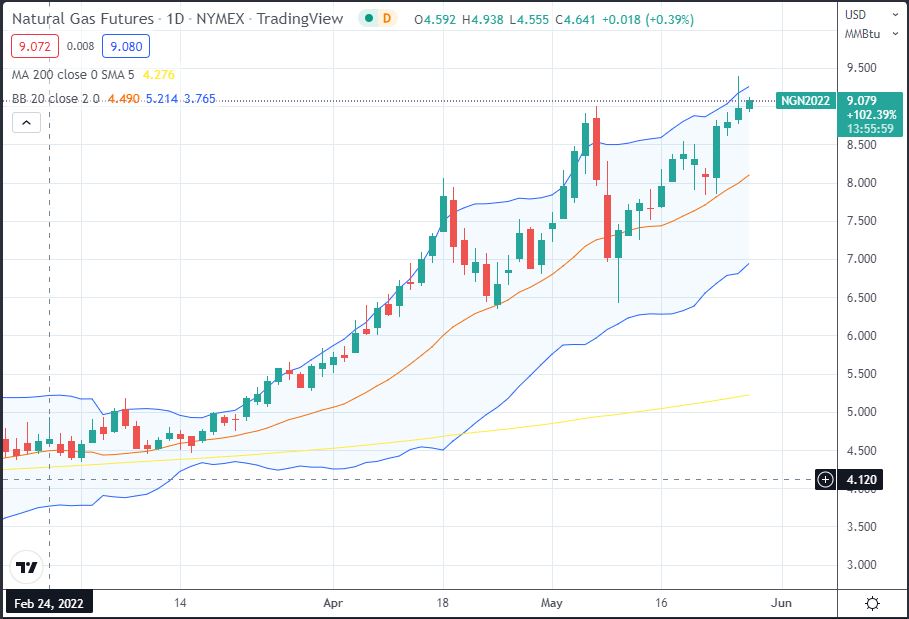 US and EU influence on US natural gas – The U.S. has become the world's leading exporter of liquefied natural gas, meaning that American consumers are increasingly competing with buyers overseas for their own country's gas production. Most of these exports go to European allies seeking to lessen their reliance on Russian natural gas in response to Moscow's invasion of Ukraine. While US voters are focusing on the rising prices at the pump and Republicans found an additional reason to attack Biden for what they consider are anti-oil policies, the dynamics around natural gas are shadier. Output of the fuel reached a record last year under Biden and is expected to top that mark this year, despite the promises given to various activist groups and the vows taken at the world economic forum for greener practices.
With the above in mind and especially with the U.S. now increasing its export levels, if the Biden administration chooses to limit Gas production to satisfy their voters base, then in the event of any unpredictable situation, a deficit in the U.S. natural gas market could send prices skyrocketing. This could prove to be a double-edged sword for the Biden administration. The world is seemingly entering into a prolonged energy crisis where the end game is hard to predict.
Sources
repsol.us, cmegroup.com, popsci.com, eia.gov, forbes.com, cnbc.com, politico.com, tradingview.com .
*Disclaimer: The information contained in this publication does not constitute investment advice and is not a personal recommendation from NaxexInvest. Nothing contained herein constitutes the solicitation of the purchase or sale of type of financial instrument. Any investment activities undertaken using this information will be at the sole risk of the relevant investor. NaxexInvest expressly disclaims all liability for the use or interpretation (whether by visitor or by others) of information contained herein. Decisions based on this information are the sole responsibility of the relevant investor. Any visitor to this page agrees to hold NaxexInvest and its affiliates and licensors harmless against any claims for damages arising from any decisions that the visitor makes based on such information.