Global markets finished the week mixed
Global markets started the week lower as investors saw that the European Central Bank and US Federal Reserve are more likely to continue raising interest rates in order to reduce the inflation. In addition, global markets had gains in the middle of the week after the US federal Reserve hinted investors that the pace of rate hikes could slow down from December. Also, the Britain and Germany service manufacturing sectors updates offered some relief over economy entering recession. Furthermore, the Dow Jones gained 0.45% at the closing bell on Friday. The S&P 500 was flat. Moreover, the DAX also was closed flat. The CAC 40 went up by 0.08% and the FTSE 100 surged by 0.28%.
Treasury yields declined towards the end of the week
Yields declined after the Federal Reserve officials meeting suggested a slowdown in tightening ahead. A smaller interest rate increase is expected by the Federal Reserve in the next meetings. The yield on the 2-year Treasury dropped to 4.475%. Short-term rates are more sensitive to Fed rate hikes. The 10-year Treasury yield, hit 3.698% down, about 1 basis points. The 30-year Treasury yield, which is key for mortgage rates, hit 3.75%. The spread between the US 2's and 10's widened to -77.7bps, while the spread between the US 10-Yr Treasury and the German 10-Yr bond ("Bund") narrowed to – 168.9bps.
Volatile week for USD
The US Dollar moved lower this week after Consumer confidence across the United States worsened by just over 5% in November compared to the previous month. Moreover, in the United States, initial jobless claims increased by 17K to 240k, which was more than expected. This was not welcomed by the market as the EURUSD traded lower at 1.04015. Furthermore, the GBPUSD ended the week higher at 1.2084 and the USDJPY traded near 139.14 on Friday. Following a period of high volatility for US Dollar, the United States will release Nonfarm Payrolls on Friday 02nd of December, which is expected to confirm a drop on Nonfarm Payrolls to 200K.
Oil and Gold traded higher
Gold started the week with losses as investors are concerned following the new measures against Covid-19. However, Gold traded higher at the end of the week following the United States Federal Reserve policymakers meeting. Prices of Oil traded lower on Monday, as supply concerns stormed the global oil markets once again. However, oil dropped more in the middle of the week, as media reports that the price cap on Russian crude might be higher than the current price of it. The prices of oil futures increased on Friday as talks regarding the price cap on Russian Oil continued. Meanwhile, in the Crude Oil Inventories report on Wednesday, an increase is expected in the number of barrels held by US firms by 2.636M.
Stock indices performance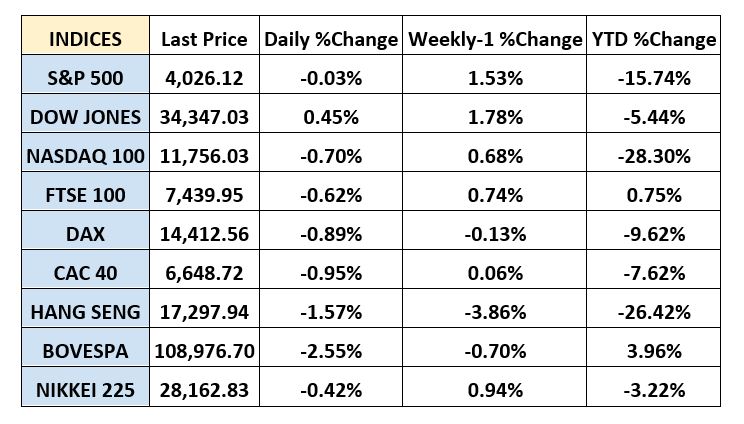 Key weekly events:
Monday – 28 November 2022

Tuesday – 29 November 2022

Wednesday – 30 November 2022

Thursday – 01 December 2022

Friday – 02 December 2022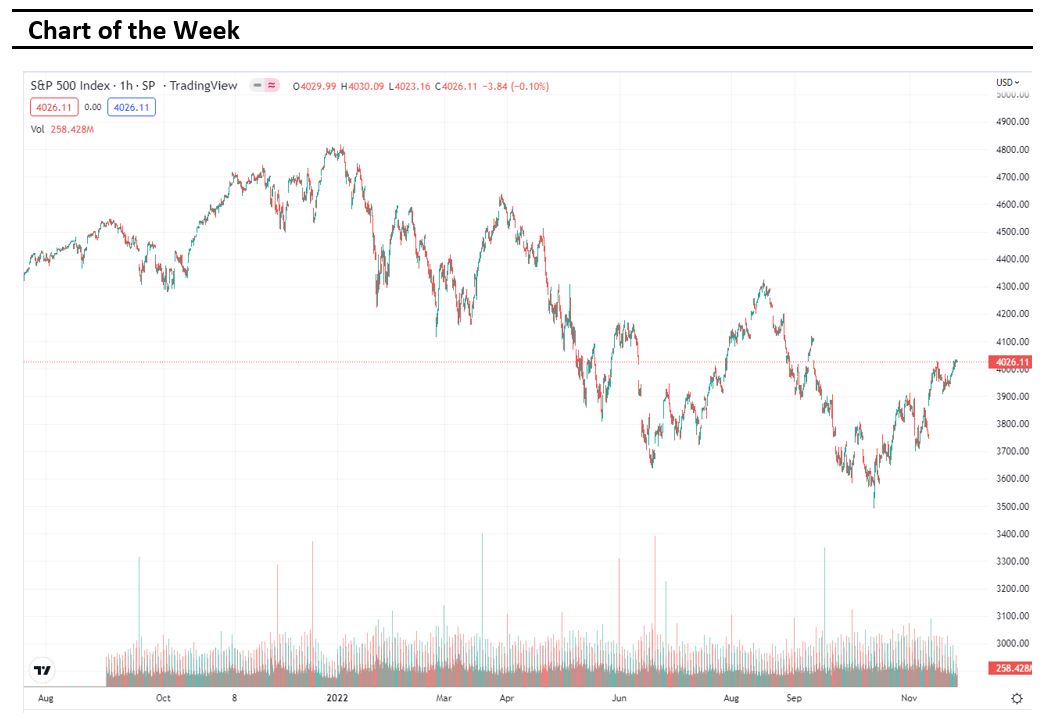 Sources:
https://www.tradingview.com/
https://breakingthenews.net/Home
https://www.investing.com/
https://www.fxstreet.com/news
https://www.cnbc.com/world/